Company Culture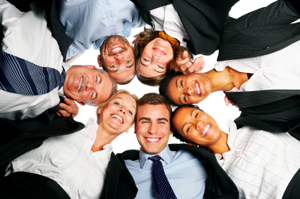 Our primary objective is your repeat business. We earn your trust by providing the maximum value with every purchase. We'll work with your design staff to ensure you receive the highest return for every dollar expended, we'll hustle to finish your order as quickly as possible, and we'll take the initiative to offer suggestions that could possibly save you money. We encourage our staff to be innovative and speedy - but not at the expense of quality. We search for experienced customer service representatives who have positive attitudes, a concern for others and a high level of detail orientation.
Our staff is the cornerstone of our success. Many quick printers and the national office supply chains offering quick printing have personnel including a large portion of non-professionals. This is not the case with The Print Shop. Our current group of 21 averages approximately 15 years of graphic media experience.
There is no greater satisfaction than delivering a finished product that helps you reach your goals and objectives.
Our Mission And Promise To You
Our mission statement is:
"TO PROVIDE SUPERIOR SERVICE & QUALITY AT A COMPETITIVE PRICE"
Everything we do and every decision we make is for the purpose of improving service to our customers, making The Print Shop more profitable, and improving the standard of living of our employees.
The Print Shop is in the business of graphic media; but we do more than just put words and pictures on paper. The Print Shop produces success. We take great pride in the fact that our creations help to make our customers look good. We make every effort to succeed - and we know that we can only accomplish this objective if we help you at yours.
Guiding Principles
The Print Shop is one of the oldest printing companies serving Southwest Florida, being founded in 1979. The Print Shop has consistently grown every year, starting with a professional staff of 3 increasing to our current staff of 21. In 1992, The Print Shop moved on Davis Boulevard from its original site to its current location to double its square footage. In 1999, The Print Shop opened a store to better serve North Naples and Bonita Springs. In 2005, we opened on Marco Island to reach southern Collier County. We now have a Print Shop in Immokalee. With the opening of our Immokalee store we completed our strategic plan of having a Print Shop store located within 10 miles of every business in Collier County. The future looks bright for The Print Shop and we are excited to serve you soon.
We're proud of the strong roots we've built in Naples and Collier County. We pride ourselves on being the complete source for all of your printing needs and have always been on the leading edge of technology. We understand that an investment in technology can actually save money by improving efficiencies. We maintain the latest in digital technology from RICOH Business Solutions at all four locations. These RICOH color processors are the latest in state-or-the-art digital color technology including CREO print-controllers. In fact, The Print Shop received the first IKON 650C and the first Ricoh 900C installed in southern Florida.
We will continue to evolve as a skilled team of printing professionals ready to learn from each other and meet whatever challenges our customers bring us. We launched our website to make it easier for our customers to request estimates, place orders, check proofs, or transfer files online. We hope you find it as helpful as we do.
Since 1979 we have evolved from a "mom and pop" print shop to a full service Graphics Media Company. Our expertise ranges from design to full blown marketing support. We specialize in "TURN KEY" projects; Including design, printing, direct mail, promotional items and marketing communications.